Japan Winter Festival 2022
Culture Workshops Lineup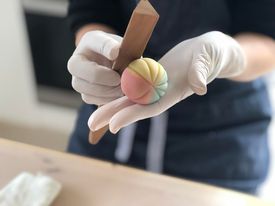 Nerikiri Experience Wagashi Workshop for Beginners!
by @minniesweets_melbourne
In this fun, unique and hands-on 1.5-hour beginners class you will create 3 beautiful nerikiri, a class of Japanese confectionery (wagashi) provided in the traditional Japanese tea ceremony. Almost too beautiful to eat, nerikiri are designed to engage all your senses!
** 練切り体験ワークショップ(初心者向け)のお知らせ **
日本の伝統菓子の和菓子の中から、今回は練切り作りを体験して頂きます。
初心者の方にも分かりやすく、練切りの材料や道具の使い方を含め、技法を使って3つ製作して頂きます。
作って頂いた作品はお持ち帰り頂けます。
このクラスでは練切り餡は作りませんので予めご了承下さいませ。
対象:初心者向け。15歳以上
1:30pm – 3pm (6th August) – SOLD OUT – join wait list
4pm-5:30pm (6th August) – SOLD OUT – join wait list
$75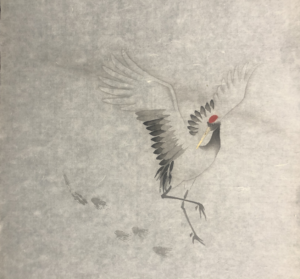 Sumie on Shikishi / Hude-Pen de Sumie
by Kinran 
1Sumie on Shikishi
Let's try Sumie, Japanese Ink Painting on Shikishi which is ricepaper coated cardboard with beautiful gold trim, ready to display with a finishing touch of red seal. Our theme is Japanese crane in snowscape. We will learn brush control technique in line depiction, 3 dimentional affect with different ink tones, and how to paint white snowy mountain with ink using Hake (flat brush). The materials will be provided. All are welcome and no experience necessary.
今回は墨絵をそのまま飾れる色紙に仕上げていきます。お題は日本の冬にちなんで雪景色に佇む丹頂鶴。線描きのコツや、三墨法、刷毛を使った雪山の表現などを勉強していきます。手ぶらで、どなたでも参加可能、未経験者も大歓迎です。
Hude-Pen is brush-tip pen with ink loaded. This means we can paint Sumi-e without any other materials except paper! In this session, you will learn which Sumie style can be done with Hude-Pen and how. We will paint on ricepaper coated postcard with a finishing touch of red seal, so that you can make your own card to send or small art work to display. The materials will be provided. All are welcome and no experience necessary.
筆ペン1本あれば紙以外のお道具がなくても墨絵がかけます!墨絵を筆ペンで描くときのコツをご紹介した後は、和紙ハガキにワンポイントまたは絵手紙風、小作品系な墨絵を仕上げていきます。手ぶらで、どなたでも参加可能、未経験者も大歓迎です。
1Sumie on Shikishi – Booking site: – SOLD OUT – join wait list
2 Hude-Pen de Sumie – Booking site:
$38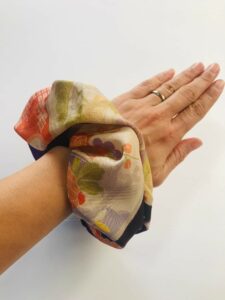 Make Your Own Vintage Kimono Scrunchie
By Yukimi Breaden (Sachi Japanese Handcrafts)
MAKE YOUR OWN VINTAGE KIMONO SCRUNCHIE
Create your own piece of kimono history! In this workshop you'll hand-sew your very own scrunchie hair tie using exquisite vintage kimono fabric direct from Japan. A choice of colours and patterns are available and all supplies and equipment are provided.
This workshop is suitable for everyone from complete beginners to intermediate sewers, ages 12 and up. It is led by Yukimi Breaden, who transforms pre-lived kimonos into fashion garments and accessories.
The workshop includes:
– sewing supplies to use on the day and take home with you afterwards
– extra fabric and elastic cord to make another scrunchie for yourself at home
– a cute mini pincushion souvenir
ビンテージの着物を素敵なアクセサリーに変身!
このワークショップでは、オリジナルのシュシュをゼロから手縫いをします。初心者から中級までの、12歳以上の方が対象です。小さな裁縫セット(針、糸、手作りピンクッション)と、自宅でもう一つのシュシュを作るための布とゴムをプレゼントします。
Workshop times:
13:30-15:00
15:30-17:00
Cost: $50
Booking information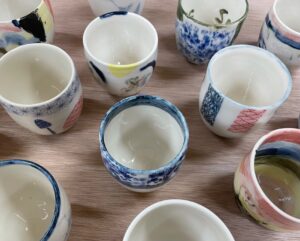 Japanese ceramic design workshop
By KIKU Pottery Studio
陶芸絵付けデザイン体験
Let's have fun decorating ceramics!
In this workshop, you can create your own original ceramic cup, bowl or plate. Naoko will provide you with one of her own studio crafted cups, bowls or plates to decorate with underglaze and a beautiful selection of handmade tissue transfers imported directly from Japan. Your creation will be professionally glazed, fired and delivered back to Japaneasy (or if you'd prefer, pick it up from Naoko's Studio in Montmorency or have it delivered to your home  (at the cost of shipping) around 2-4 weeks later, ready to use or gift to someone special!
age+7
器絵付けデザイン体験
陶芸用絵の具や転写紙を使って食洗器使用OKのオリジナルデザインの器を作ります。器はカップ、ボール、皿の中から一つ選んでいただき作製します。作製後2-4週間で仕上がり次第Japaneasy か担当の陶芸スタジオ(Montmorency)まで取りに来ていただくか、または追加料金で自宅に発送します。オリジナル柄の日常使いの器、または特別なプレゼントに最適です。age+7
13:00-14:00
14:15-15:15 – SOLD OUT – join wait list
15:30-16:30 – SOLD OUT – join wait list
16:45-17:45
$65
Booking information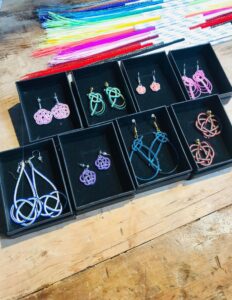 ーMizuhiki knot Earringsー
By Anna Konecny
Join us to learn to make your own jewelry using the Japanese traditional paper cord called Mizuhiki.
In this workshop, you will be guided through this process to complete ONE pair of earrings in any color combination.
You can choose silver or gold studs/hook or clip-on.
Craft beginners welcome.
The class include
-What is Mizuhiki? Where from?
-How to handle Mizuhiki
-basic knots + Awaji knot
-cords to practice
-materials to make a pair of earrings/clip-on
-extra 10 cords to take home to have more fun
*All equipment is supplied on the day. Let's have fun and be creative!!
13:30-15:00
15:30-17:00
$60
Booking information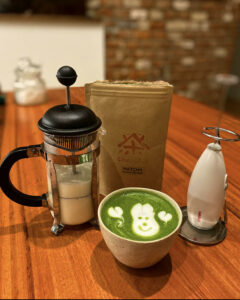 The perfect matcha latte: Secret tips from a Japanese barista
By Cha Haus
Want to serve the perfect matcha latte at home?
We'll show you how to use a common household device to create cafe-quality matcha lattes every time.
Join your hosts Cha Haus owner Madoka and Origami Cafe owner and barista Takeshi for a fun (and yummy) workshop.
Madoka will show you how to mix up a silky smooth matcha, including common mistakes to avoid when mixing your own. Then Takeshi will have you frothing milk like a tattooed Fitzroy barista so you can turn your matcha into a silky smooth latte.
By the time you leave, you'll be pleasantly caffeinated and ready to put your new skills to use.
We can only offer two sessions of this popular workshop and only have space for a small number of matcha lovers. So please sign up early to avoid missing out.
SPECIAL JAPANEASY BONUS: All participants will receive Japanese confectionery and a small "omiyage" gift bag.
ベテラン日本人バリスタと一緒に作る
DIY極上抹茶ラテ作りワークショップ
極上抹茶ラテをご自宅で!
市販の道具を使ってご家庭でカフェレベルの抹茶ラテが作れるようになります。
基本の抹茶の作り方、ラテ作りのコアであるミルクフロス作りにフォーカスしたワークショップです。
通常、スチーマーを使ってプロレベルのミルクフロスを作るには、相当の練習を積まなければいけませんが
ある道具を使いちょっとした工夫でかんたんに作れるようになります。
厳選された抹茶を使ってのベース作りの基礎はCha Hausまどかが
ミルクはOrgami coffeeたけしが楽しくレクチャーいたします。
バリスタがフルアテンドする、1日限定のワークショップ。
ご帰宅後からすぐに使える茶リスタスキルをぎゅーっとまとめてお伝えします。みんなが笑顔になるとっておきのほっこりタイムをお持ち帰りください。
ちょっとしたお菓子と心ばかりのお土産付きです。
90 minutes / session
13:00-14:30
15:00-16:30
$59
Booking information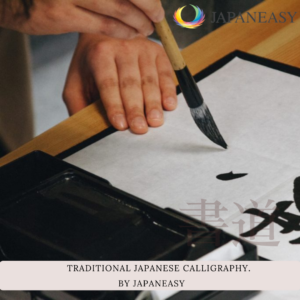 Traditional Japanese Calligraphy
WRITE BEAUTIFUL CHARACTERS
Learn the beautiful art of traditional Japanese Calligraphy! Japanese calligraphy (書道, shodō) also called shūji (習字) is a form of calligraphy, or artistic writing, of the Japanese language. The art of brought to Japan by a Chinese calligrapher from the 4th century, but after the invention of Hiragana and Katakana, the Japanese unique syllabaries, the distinctive Japanese writing system developed and calligraphers produced styles intrinsic to Japan. The term shodō (書道, "way of writing") is of Chinese origin as it is widely used to describe the art of Chinese calligraphy during the medieval Tang dynasty.
You will learn how to paint pictographic characters with an ink-drenched brush and a focused mind. Not only does this improve your kanji, you'll also create a masterpiece to hang on your wall.
Sat 6th Aug
(1)12:00-13:00 ($20) or 12:00-13:30 ($25)
(2)13:10-14:10 ($20)
※CASH ONLY
※Capacity:10 people
Please book via
reception@japaneasy.com.au
or
0422266308
Booking information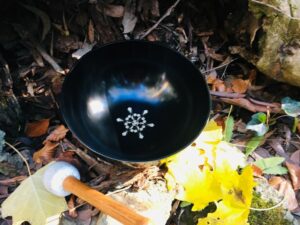 Pray for Peace Sound Meditation Experience for everyone for Hirosihma Day
Pray for Peace! Join our Peace Meditation Workshop on August 6th, you will be guided by the miracle sound bowls called Singingring® (originated in Japan) to effortlessly take your consciousness to a Meditative state and the body to a deeply relaxed state, finding yourself in the sound of silence and peace within you. After your sound tuning. We will pray for peace which will be a powerful manifestation act. In this workshop you will: Experience miracle sound healing, guided by Singingring® sound bowls Tuning your vibration to an optimal level Learning about Singingring® and its miracle sounds Relax and rejuvenate from your mind and body cells Receive very unique sounds and vibrations Pray for peace from your heart centre after body and mind tuning Pray for Peace!
シンギングリン®の平和を祈るメディテーションワークショップのお知らせで す。 日本で生まれ、日本で作られた奇跡の音響楽器といわれるシンギングリン®のサウンドボール 音で意識を合わせて心と体を深くリラックスし、音を通して内なる平和を見出すワークショッ プです。奇跡の音シンギングリンの奇跡な理由を実際に体感していただくサウンドヒーリング の体験をしていただきます。 心と体を音と波動で最高に整えたあと、皆さんと一緒に平和を祈ります。 ワークショップは20分間、1グループにつき2-3人、無料のワークショップですので、 ブッキングは必要ありませんが、当日のお席の確保もうけつけています。どなたでもご参加い ただけるワークショップですお気軽にお越しください。
Duration: 20 mins (Free)
Suitable for everyone
Maximum of 3 people at each workshop
You can book the session in advance to secure your spot.
Booking information